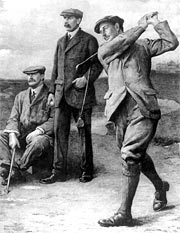 A golf-like game is, apocryphally, recorded as taking place on 26 February 1297, in the Netherlands, in a city called Loenen aan de Vecht, where the Dutch played a game with a stick and leather ball. The winner was whoever hit the ball with the least number of strokes into a target several hundred yards away. Some scholars argue that this game of putting a small ball in a hole in the ground using golf clubs was also played in 17th-century Netherlands and that this predates the game in Scotland. There are also other reports of earlier accounts of a golf-like game from continental Europe. In the 1261 Middle-Dutch manuscript of the Flemish poet Jacob van Maerlant's Boeck Merlijn mention is made of a ball game "mit ener coluen" (with a colf/kolf [club]). This is the earliest known mention in the Dutch language of the game of colf/kolf as played in the Low Countries. In 1360, the council of Brussels banned the game of colf: "... wie met colven tsolt es om twintich scell' oft op hare overste cleet ..." (he who plays at colf pays a fine of 20 shillings or his overcoat will be confiscated).
In 1387, the regent of the county of Holland, Zeeland and Hainaut, Albrecht of Bavaria, sealed a charter for the city of Brielle (Den Briel), in which it was forbidden to play any game for money. One of the exceptions to this ordinance was "den bal mitter colven te slaen buten der veste" (to play the ball with a club outside the town walls). Two years later, in 1389, the regent Albrecht offered the citizens of Haarlem a field called 'De Baen' (the course) to be used exclusively for playing games – especially colf – because these were too dangerous within the city walls.
In 1597 the crew of Willem Barentsz played "colf" during their stay at Nova Zembla, as recorded by Gerrit de Veer in his diary: Den 3. April wast moy claer weder met een n.o. wint ende stil, doen maeckten wy een colf toe om daer mede te colven, om also onse leden wat radder te maecken, daer wy allerley middelen toe zochten. (The 3rd of April the weather was nice and clear with a north-easterly wind and quiet, then we made a colf [club] to play colf with, and thus make our limbs more loose, for which we sought every means) In April 2005, new evidence re-invigorated the debate concerning the origins of golf. Evidence unearthed by Prof. Ling Hongling of Lanzhou University suggests that a game similar to modern-day golf was played in China since Southern Tang Dynasty, 500 years before golf was first mentioned in Scotland. In this source, Dōngxuān Records (Chinese: 東軒錄) from the Song Dynasty (960–1279) describe a game called chuíwán (捶丸) and also includes drawings of the game. It was played with 10 clubs including a cuanbang, pubang, and shaobang, which are comparable to a driver, two-wood, and three-wood. Clubs were inlaid with jade and gold, suggesting chuíwán was for the wealthy. Chinese archive includes references to a Southern Tang official who asked his daughter to dig holes as a target. Ling suggested chuíwán was exported to Europe and then Scotland by Mongolian travellers in the late Middle Ages.
Early golf in Scotland
The Royal and Ancient Golf Club of St Andrews The modern game of golf is generally considered to be a Scottish invention. A spokesman for the Royal and Ancient Golf Club of St. Andrews, one of the oldest Scottish golf organisations, said "Stick and ball games have been around for many centuries, but golf as we know it today, played over 18 holes, clearly originated in Scotland." The word golf, or in Scots gouf, is usually thought to be a Scots alteration of Dutch "colf" or "colve" meaning "stick, "club", "bat", itself related to the Proto-Germanic language *kulth- as found in Old Norse kolfr meaning "bell clapper", and the German Kolben meaning "mace or club". The Dutch term Kolven refers to a related sport. The first documented mention of golf in Scotland appears in a 1457 Act of the Scottish Parliament, an edict issued by King James II of Scotland prohibiting the playing of the games of gowf and football as these were a distraction from archery practice for military purposes. Bans were again imposed in Acts of 1471 and 1491, with golf being described as "an unprofitable sport". Mary, Queen of Scots was accused by her political enemies of playing golf after her second husband, Henry Stuart, Lord Darnley, was murdered in 1567. George Buchanan subsequently wrote that she had been playing "sports that were clearly unsuitable to women". Golf was banned again by parliament under King James IV of Scotland, but golf clubs and balls were bought for him in 1502 when he was visiting Perth, and on subsequent occasions when he was in St Andrews and Edinburgh. The account book of lawyer Sir John Foulis of Ravelston records that he played golf at Musselburgh Links on 2 March 1672, and this has been accepted as proving that The Old Links, Musselburgh, is the oldest playing golf course in the world. There is also a story that Mary, Queen of Scots, played there in 1567.
Instructions, golf club rules and competitions
Pub sign on the Golf Tavern on Bruntsfield Links, 2011 The earliest known instructions for playing golf have been found in the diary of Thomas Kincaid, a medical student who played on the course at Bruntsfield Links, near Edinburgh University, and at Leith Links. His notes include his views on an early handicap system. In his entry for 20 January 1687 he noted how "After dinner I went out to the Golve", and described his Golf stroke:
I found that the only way of playing at the Golve is to stand as you do at fenceing with the small sword bending your legs a little and holding the muscles of your legs and back and armes exceeding bent or fixt or stiffe and not at all slackning them in the time you are bringing down the stroak (which you readily doe) ....
The oldest surviving rules of golf were written in 1744 for the Company of Gentlemen Golfers, later renamed The Honourable Company of Edinburgh Golfers, which played at Leith Links. Their "Articles and Laws in Playing at Golf, now preserved in the National Library of Scotland, became known as the Leith Rules and the document supports the club's claim to be the oldest golf club, though an almanac published about a century later is the first record of a rival claim that The Royal Burgess Golfing Society had been set up in 1735. The instructions in the Leith Rules formed the basis for all subsequent codes, for example requiring that "Your Tee must be upon the ground" and "You are not to change the Ball which you strike off the Tee".
The 1744 competition for the Gentlemen Golfers' Competition for the Silver Club, a trophy in the form of a silver golf club provided as sponsorship by Edinburgh Town Council, was won by surgeon John Rattray, who was required to attach to the trophy a silver ball engraved with his name, beginning a long tradition. Rattray joined the Jacobite Rising of 1745 and as a result was imprisoned in Inverness, but was saved from being hanged by the pleading of his fellow golfer Duncan Forbes of Culloden, Lord President of the Court of Session. Rattray was released in 1747, and won the Silver Club three times in total.