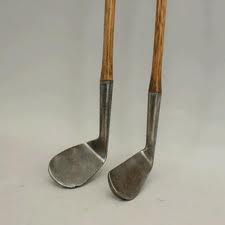 In 1457 James II of Scotland issued the following decree that "fute-ball and golfe be utterly cryed down and not to be used" in an attempt to encourage archery practice which was being neglected. Finally in 1502 his grandfather James IV of Scotland who was a keen golfer (gowfer) himself lifted the ban against golf being played which meant that there was a necessity for clubs to be made so that Royalty, Courtiers and the more privileged amongst society could once again take up the sport. James IV ordered a set of clubs to be made in 1502 by a local bowmaker. The records show that his Lord High Treasurer paid a bill of 13 shillings to a 'bowar' of Saint Johnstoun (Perth) for 'clubbs'. These clubs would have had to be made using a strong wood such as Scottish Beech because wooden balls were used at this time so these clubs endured some rough treatment and were frequently damaged meaning that the repairs would have been costly even in those days so that is more evidence as to why the game was only played by the rich and upper classes of society. James IV is the first recorded known player of golf and Perth where he used to play is the oldest recorded location in Scotland where golf took place. His granddaughter Mary Queen of Scots was also known to have enjoyed the game and her son James VI of Scotland introduced the game to England when he became James I in 1603. In the same year he had issued a Royal Warrant to William Mayne (a bowyer burgess of Edinburgh) who had become his club maker so there is a definite connection between golf and archery from the early 1500's that continued well into the 19th century. Other trades that had an influence on club making were shipwrights who had been using the spliced joint (scare neck) for 100's of years, fishermen's tarred twine was used for whipping the early clubs, blacksmith's made the early crude iron heads and both carpenters and cabinet makers also had the knowledge and tools available to shape the wooden heads.
Damage to the clubs was lessened with the introduction of the Featherie ball in the early part of the 17th century which brought about a new excitement to the game. The ball had hand sewn leather outer casing which was then stuffed very tightly with either chicken or goose feathers to form the shape of a ball. The quantity of feathers required to stuff the casing is enough to fill a top hat. The ball was then painted white ready for use. However a major failing with this type of ball was when it became wet the cover would soften causing the ball to fall apart. This type of ball was used until around the mid 1800's when it started to be replaced with the introduction of the Gutta Percha ball made from a hard rubber material which was invented by the Rev. Adam Paterson in 1848. He had received a gift which was protected with padding made of a substance called Gutta Percha. He found that when heated this material would soften to the shape of a ball which became hard when set. This type of ball cost considerably less and with the introduction of cheaper iron headed clubs around the same time it meant that the working class society could now take up the sport and soon the young and old could be seen on the links enjoying a game of golf.
There is little knowledge about the design of golf clubs during the 16th, 17th and 18th centuries and clubs from these era's are extremely hard to find. Most will already be in private collections or museums. During the latter part of the 1700's rough iron headed clubs started to be produced by Blacksmiths. These were the first type of Rut Irons used to help move the ball from holes, scrapes and ruts. However there was one problem, the Featherie ball did not like being struck by these irons and more often than not the ball was badly damaged. During this period a number of specialist club making companies were being formed as the game was gaining momentum with more clubs being required to satisfy the demands from the public. Three of these companies went on to produce some of the finest vintage Long-Nose clubs ever produced and have become highly sought after by the serious collectors of golf club memorabilia. These companies are as follows:
The McEwan family. Founded in 1770 by James McEwan in Edinburgh, this business would last 150 years spanning 6 generations. The name McEwan on a club is recognized as 'the hallmark of excellence'. Through their dedication and superb craftsmanship, the McEwan's helped to shape the evolution of the golf club leaving their family mark on the game. Their clubs bear the mark of the Scottish Thistle and are extremely rare today. Hugh Philp. Already a successful builder, Hugh Philp started making clubs in St. Andrews as side line in 1812 but within 7 years achieved the accolade of becoming the 'Appointed Clubmaker to the Society of St. Andrews' which later became known as the Royal & Ancient. His clubs were known for their beautiful designed heads and very high craftsmanship. He was particularly known for his very fine putters which were beautifully balanced. The crown of the wooden head bears his name in either stamp form or sometimes in script form. His vintage clubs were so highly regarded that a few years after his death counterfeits were being produced which collectors nowadays must be aware of before purchasing a Philp club. He died in 1856 but had already employed his nephew Richard Forgan who carried on the business maintaining the highest quality standards and who was to become a famous clubmaker in his own right.
Read more...
You can find lots of Golf Balls for Sale at ebay.co.uk.
www.Ebay.co.uk If you are starting out making a collection of Golf Balls, Buy Golf balls that have not been repainted or refinished as this can affect the value.
We are putting together a comprehensive catalogue of old golf balls and there values.
If you have any pictures of old, rare golf equipment and balls please send them to us @ info@vintagegolfballs.co.uk and we will try to include them in our catalogue. Pictures and values...
As an added service we aim to give free advice and valuations on all your items.
Whether it it a antique golf club or old golf ball we will try and give you a honest appraisal to the best of our ability.